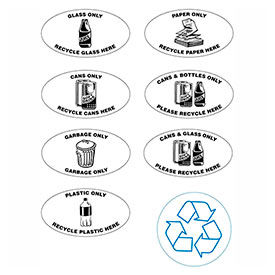 See all 7 items in product family
Techstar Bullseye Oval Labels For Recycling Containers Are Used For Applications Including Maintenance, Waste Management, Industrial, And More.

Techstar Bullseye oval labels for recycling containers are made of high quality materials for long lasting durability and dependability. Units allow visible waste receptacle labeling for convenient organization, storage, and disposal. Various messages allow application versatility. Available in English and French upon request. Texts are Cans Only, Garbage, Glass, Glass/Cans/Plastic, Newspaper Only, Paper Only, and Plastic. Color is Blue/White. Dimensions are 4-1/2" x 6-1/2".


Click for more