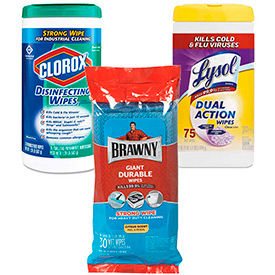 See all 8 items in product family
Sanitizing Wipes Provide Surface Maintenance and Cleanliness for Residential, Medical, and Hospitality Environments.

Sanitizing wipes are made of high quality materials for dependability. Wipes eliminate and prevent bacteria, germs, mold, and mildew growth for restrooms, kitchens, nursing homes, and more. Units accommodate wood, metal, fabric, plastic, rubber, and other materials. Designed for one-time use and easy disposal. Available styles include Alcohol-Free Disinfecting Wipes, Antibacterial Wipes, Bleach Germicidal Wipes, Disinfecting Wipes, Food Surface Disinfecting Wipes, Mega Hand Roll Sanitizing Wipes w/Bucket, Quat Disinfectant, and Sanitizing Wipes. Package quantities vary per model.


Click for more