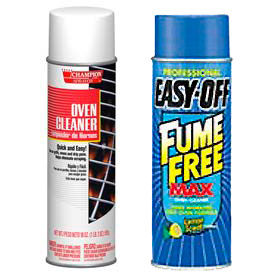 See all 3 items in product family
Oven and grill cleaners dissolve tough, baked on grease from ovens, grills, griddles, broilers and hoods. Oven Cleaner penetrates through the toughest baked-on grease and carbonized soils for easy removal with less manual scrubbing. Use on pots, pans, cooking utensils, grills and other stainless steel surfaces. Mr. Muscle® Oven & Grill Cleaner is an institutional formula with heavy-duty cleaning power for fast and easy cleaning of institutional, industrial and commercial surfaces. Works immediately on warm or cold ovens. Self-scouring action with unsurpassed clinging ability starts breaking down tough, baked-on grease and grime on contact, for less scrubbing.


Click for more
See all 4 items in product family
Grill Cleaning Tools Are Specially Designed For Use On High Heat Surfaces.

Griddle Cleaning Tools remove cooked on food and grease from large, flat surfaces. Can withstand temperatures up to 350° F. Available in Double Broiler King, Grill Pad Holder, Oven/Brush Scraper, Grill Brick, Long Handle Grill Brush with or w/o Scraper, Griddle Cleaning Kit, Griddle Scrubber, Hood Cleaning Tool, Hood Cleaning Kit, Washer Sleeve and more. Available color finishes are Green, Black/Orange, Blue/Gray, Orange/Tan, Black, Black/Red, Black/Gray, White/Green, Black, Blue, Silver//Green and more. Sold in package quantities of 1, 2, 6, 10, or 12.


Click for more