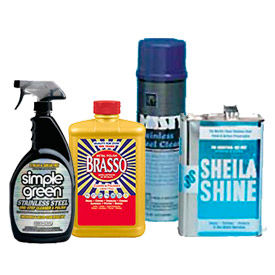 See all 5 items in product family
Stainless Steel Cleaners Are Used For A Wide Range Of Residential, Commercial, Industrial Or Institutional Applications.

Stainless Steel Cleaners are available in a wide selection of brands and types for various residential, commercial, industrial or institutional stainless steel, copper or brass cleaning and polishing applications. Available in wide range of Aerosols, Canisters, Bottles, Spray Bottles, Trigger Bottles, Tubs, and Wipes. Package quantities and capacities vary per model.


Click for more