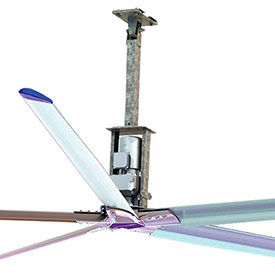 See all 6 items in product family
Altra Air Sailfin HVLS Fans Save Energy For Manufacturing, Warehouses, Distribution Centers, Arenas And More Work Environments.

Altra-Air Sailfin HVLS fans blanket a very large area with constantly moving air to create an expansive comfort zone. As a result, this large ceiling fan can create an evaporative cooling effect of 5 to 8 degrees Fahrenheit throughout the facility. The Sailfin Blade Design is a massive evolutionary step towards our most advanced airfoil yet capable of producing a 6mph breeze. 3-phase fans available in 16, 20 and 24 feet diameters and lengths. Other dimensions, amps and watts vary per model.


Click for more