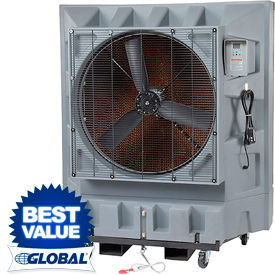 See all 4 items in product family
Best Value Industrial Portable Evaporative Coolers Produce Effective Cooling, Particularly in Arid Environments.

Evaporative Air Coolers provide an economical and environmentally-friendly means of keeping spaces cool. Water and forced air are combined to reduce air temperatures by as much as 26°F. Coolers are made with a micro-computer programmed control panel with LCD display and an Auto-Shutoff feature for pump motor when water levels drop below the limit. Fan operates at three selectable speeds, and a thick cooling pad ensures reliable heat absorption. Four rubber casters with brakes allow easy mobility. Remote control included. Built-in timer allows cooler to be programmed to turn on or shut off at preselected times. Direct drive. Fan diameters are 20", 30", 36", and 48". Tank capacities are 15.8, 32, and 92.5 gallons. Cooling square footage is 530, 2600, 3200, and 5382. CFM high and HP vary per model.


Click for more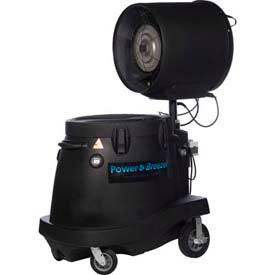 See all 1 items in product family
Industrial-Grade Portable Cooling Device is used in Warehouses, Loading Docks, Hangers, Schools, Construction Sites, Sports Facilities and More.

Industrial Grade Portable Cooling Device provides consistent, targeted cooling covering up to 3000 square feet. Used for partially-covered or outdoor areas, it can deliver temperature reduction up to 27 degrees. Industrial Grade fans have rugged polycarbonate housing for long lasting durability in repeated or outdoor use. Oscillating head increases coverage area. User-controlled fan and moisture level allows fine-tuning. 50 hours constant run time. Unique delivery system recirculates water and inhibits mold. Safe and economical. Moves easily on 4 heavy-duty casters. Fan diameter is 24". CFM highs are 7,000 and 14,000. Cooling coverages are 1500 and 3000 square feet. 1 and 3/4 HP. OSHA compliant, ETL, NOM, CE certified. Made in the USA by Veterans.


Click for more