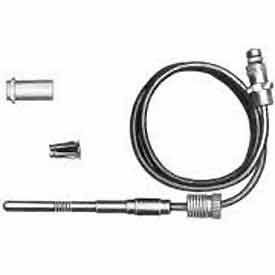 See all 9 items in product family
"Thermocouples Are Made For Gas Fired Heating Systems.

Thermocouples are built for long lasting durability and dependability. Generate a thermoelectric current that senses a pilot flame on gas fired heating systems. Pilot flame heats the tip of the thermocouple, producing a temperature differential between it and the base. The temperature difference generates a small amount of DC power, measured in millivolts. Available in 18, 24, 30 36 and 48 inch lead lengths with Adapter, Male Connector Nut, Push-In Clip and Screw connection types.


Click for more