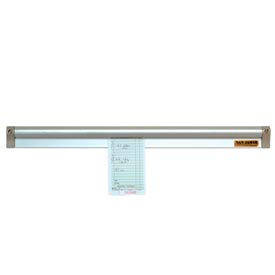 See all 12 items in product family
Slide Check Racks Are Used For Use In Cafés, Diners, Restaurants, Cafeterias And Other Foodservice Ordering Applications.

Slide Check Racks are made of sturdy stainless steel or aluminum construction for long lasting durability and dependability. Various recognized brands offer wide selection of racks designed to securely hold checks or tickets in place while allowing lateral slide movement for foodservice ordering applications. Balls or marbles inside the rack keep checks in place while plastic end caps hold them in. Easily mount to existing wall or shelf. Available in wide range of 12 to 60 inch lengths.


Click for more