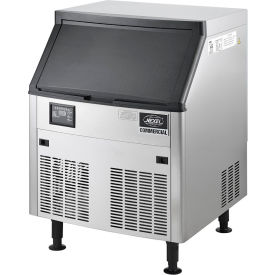 See all 3 items in product family
Self Contained Under Counter Cubers With Built-In Storage Bins Are Used For Applications Including Hospitality, Food Service, Commercial And More.

Self contained under counter cubers with built-in storage bins are made of stainless steel for long lasting durability and corrosion resistance. Cuber design freezes water, eliminating minerals and impurities for improved quality and taste. Dual-sided evaporator is energy efficient, cost effective and environmentally friendly. Front ventilation system allows convenient unit servicing and maintenance. Units are not affected by caustic water eliminating ice plating or flaking. Condenser type is Air-Cooled. Styles are Self Contained Ice Machine, Self Contained Crescent Cuber w/ Built-In Storage Bin and Undercounter Ice Machine. 24 hour ice capacity ranges from 58 to 340 lbs. Color finish is Stainless Steel. NSF and ETL certified. Dimensions vary per model.


Click for more