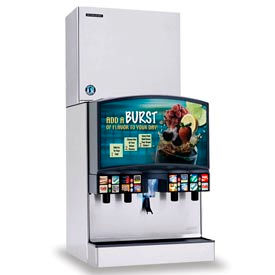 See all 1 items in product family
Serenity Series Crescent Cubers Are Built To Provide Reduced Heat And Low Noise Operation.

Ice over beverage dispenser design provides chilled beverage and ice dispensing for use in restaurants, pizzerias, fast food joints, cafes, diners and anywhere beverages are served. Made using corrosion resistant stainless steel. Dual-sided stainless steel evaporator has oval-shaped copper refrigerant tubing for the most efficient heat exchange. Evaporator design freezes the purest water, washing most of the minerals and impurities down the drain to create individual crystal clear crescent cubes. Ice cube machines are not affected by caustic water to eliminate plating or flaking. CycleSaver® allows production of the same amount of ice in half the cycle of other machines. Made with an antimicrobial agent. R-404A refrigerant. CEC compliant. UL listed. NSF approved. 3 Year Limited Warranty.


Click for more