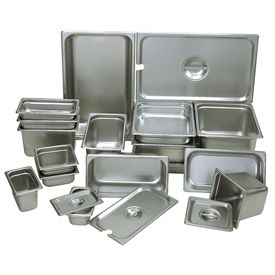 See all 23 items in product family
Update International Steam Table Pans Are Used For Displaying And Serving Food In Cafeterias, Restaurants, Buffets, Banquet Halls And Other Foodservice Venues.

Update International Steam Table Pans are made of stainless steel for long lasting durability and dependability. Pans rest in water trays to provide quick and even heating that keeps food warm while serving. Available types include Anti-Jam Pan, Notched Cover, Steam Table Pan, Perforated Pan, and Sandwich Spread Pan. Sizes include Full, Two-Third, Half, Third, Fourth, Sixth, and Ninth Size Pans. Color finish is Stainless Steel. Dimensions and quantities vary per model.


Click for more