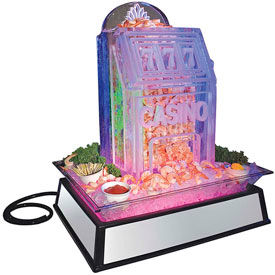 See all 8 items in product family
Cal-Mil Ice Displays Are Designed To Keep Ice Sculptures And Frozen Foods Cold For Buffets, Catering And Foodservice Events.

Cal-Mil Ice Displays are durably constructed with chip resistant clear PETG for long lasting use and reliability. Larger size pedestal displays can hold up to 500-lb ice sculptures, and smaller displays support up to 400 lbs. Water containment units are designed to collect and store melted ice water for hours without the use of awkward, visible buckets. Durable ABS construction is unbreakable, dishwasher & food safe. Available styles include AC Adapter, Ice Carving Pedestals, LED Light Packs, Rectangular Ice Pans, and Water Containment Units. Color finishes are Black, Clear, Mirror, and Platinum. Dimensions vary per model.


Click for more