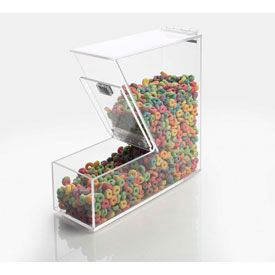 See all 12 items in product family
Cal-Mil Topping Dispensers Are Designed To Efficiently Serve Toppings For Buffets, Catering And Foodservice Events.

Cal-Mil Topping Dispensers are constructed of durable polycarbonate for long lasting reliability. Dispensers provide sanitary method to dispense food items and ice and help maximize table space with simple organization of supplies. Optional spoon notches allow drawers to be closed while a serving spoon remains within unit. Scoop holders keep scoops and its holder off table tops and out of ice to stay organized and clean. Available styles include Classic Large Tall Dispensers, Glass Jar, Ingredients Scoop, Scoop w/Guard, Scoop w/Holder, Short Dispenser, Stackable Dispenser, and 2-, 4-, or 8-Drawer Topping Dispensers. Color finish is Clear. Dimensions vary per model.


Click for more