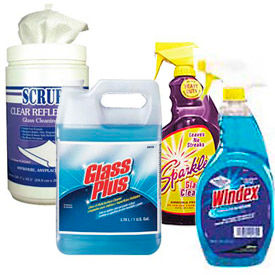 See all 6 items in product family
Glass Cleaners Provide Surface Maintenance For Applications Including Residential, Medical, Hospitality, And More.

Glass and surface cleaners are made of high quality materials for dependability. Cleaners eliminate dust, dirt, and debris for windows, mirrors, tiles, and more. Will not scratch or haze surfaces. Styles include Glass/Mirror Cleaner, Glass only Cleaner, Heavy Duty Glass Cleaner, Glass/Surface Cleaner, Concentrated Glass Cleaner, Perfect Glass Cleaner, Glass Cleaner w/Ammonia, Green Formula Glass Cleaner, All-Purpose Spray and Glass Cleaner, Window Cleaning Tablets, Foaming Glass Cleaner, Aerosol Glass Cleaner, Cleaner Wipes, and Liquid Glass Cleaner. Available in spray bottles, gallon bottles, aerosol cans, buckets, wipes, towels, tablets, pumps, trigger bottles and more. Package quantities and capacities vary per model.


Click for more