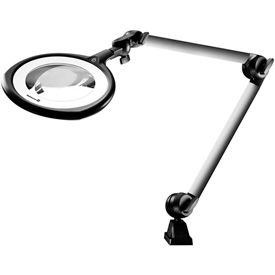 See all 17 items in product family
LED And Fluorescent Inspection Magnifiers Provide Illuminated Magnification For Close Work In Machining Applications, Laboratories, Art Studios, Workshops And More.

LED and Fluorescent Inspection Magnifiers feature LED, fluorescent, halogen or incandescent bulbs to provide clear illumination and reliable performance. Magnifier task lights available with lights built into magnifier or with lamp and lens built separately. Hinged neck or gooseneck styles to achieve precise light positioning. Reach ranges from 14 to 45 inches. Base types are Clamp, Desktop, Pin Mount and Screw to meet specific indoor lighting needs. Color finishes are Black, Black/Silver, Silver and White. Additional specifications vary by model.


Click for more