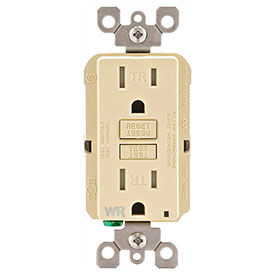 See all 6 items in product family
Leviton® SmartLock PRO™ Commercial Grade GFCI Receptacles Are Resistant To Surge, Noise And Corrosion.

Thick walled, impact resistant thermoplastic nylon cover and body withstand abuse. Surge hardened electronics offer superior resistance to surges and over-voltages. Silver alloy contacts offer reliable make/break switching. Includes triple combination terminal screws. Includes color match test/reset buttons. Lockout feature prevents reset if GFCI is not functioning properly. Back and side wired. Available with or without 6" Lead Wires. Blank Face Receptacles also available. Complies with 2006 UL requirements. CSA certified. 2 Year Limited Warranty.


Click for more