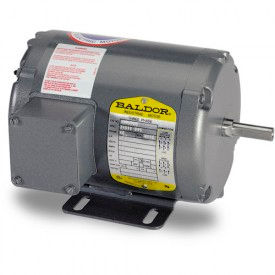 See all 31 items in product family
HVAC TEFC, TEAO And TENV Motors Are Used For Ventilators, Direct Drive And Belted Fans, Exhaust Fans, Unit Heaters, Air Conditioning Units And Commercial Refrigeration Condensers.

HVAC TEFC, TEAO And TENV Motors are solidly manufactured for long lasting durability and dependability. Baldor and Marathon® brand continuous duty motors have sturdy Totally Enclosed Fan Cooled (TEFC), Totally Enclosed Air Over (TEAO) and Totally Enclosed Not Vented (TENV) enclosures and ball bearing construction to accommodate varying belt loads and tension. Dynamically balanced rotors for reduced vibration and quiet operation. Wide selection of various voltage units are available in 1/4, 1/3, 1/2, 1, 1-1/2, 2, 3, 5, 7-1/2, 10, 15, 20, 25, 25, 30, 40, 50, 60 and 75 horsepower, 855 to 1780 RPM and various Rigid frame mountings.


Click for more