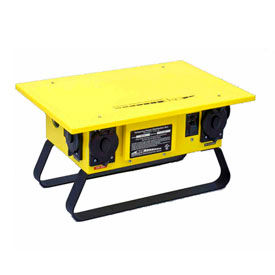 See all 12 items in product family
Power Distribution/Spider Boxes and Centers Provide Safe Access To GFCI Protected Electricity.

Power Distribution/Spider Boxes are constructed to withstand harsh outdoor weather conditions and to provide long lasting durability. Several types available including 3-Ph Temporary Power Box, 30A Twist Lock Mini Power Center, 30A U-Ground Mini Power Center, 50' Input Power Cord, 50A Temporary Power Box - Rugged, Twist Lock and U-Ground. Lengths range from 12" to 50'. Portable power boxes, NEMA configurations and dimensions vary by model. UL listed to ensure electrical safety.


Click for more