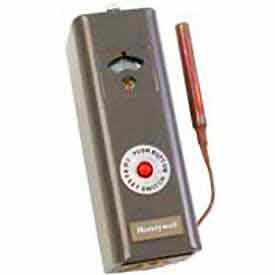 See all 41 items in product family
"Aquastats Automatically Regulate Supply Or Loop Water Temperature To Provide Outdoor Reset.

Aquastats (Aquatrol Outdoor Temperature Compensators) are solidly manufactured for long lasting durability and dependability. A wide selection of multi-function and single function controller models are available to control boiler temperature, or floating control mixing or injection valves, or circulator for injection mixing. Selected features include automatic reset curve calculation, selectable Warm Weather Shut Down, push-to-test button and troubleshooting LED indicators. Choose various Well Assemblies and Mounting Clamps for 1/2 and 3/4 inch piping. White-Rodgers™ Fast Response Direct Immersion Control and Surface Mount Hydronic Temperature Control also available.

"
Click for more